January 2019
| Sun | Mon | Tue | Wed | Thu | Fri | Sat |
| --- | --- | --- | --- | --- | --- | --- |
| | | 1 | 2 | 3 | 4 | 5 |
| 6 | 7 | 8 | 9 | 10 | 11 | 12 |
| 13 | 14 | 15 | 16 | 17 | 18 | 19 |
| 20 | 21 | 22 | 23 | 24 | 25 | 26 |
| 27 | 28 | 29 | 30 | 31 | | |
Calendar


Hi everyone.......
Ya you heard it right ....MMK can be used for free now..No activation or registration charges. :hurrey: :hurrey: As you already know about the features of MMK, let me tell u once again :congrates:
MMK is the first mobile software for mig33 "multi - kicking"
----------
Features:
----------
1] 10 ID SINGLE CLICK ENTRY-EXIT.
2] SINGLE CLICK KICK.
3] FASTER THAN PC.
4] RUNABLE IN EVERY MOBILE WHERE MIG RUN.

5] AUTO ROOM USER LIST RETRIEVE.
6] SHORT KEYS OPRATING SYSTEM FOR FASTER EFFECT.
7] EASY AUTO UPDATE USER PAGE.
8] AUTO DETAILS SAVE IN MAIN PAGE.
9] FASTER RUM JUMP(CHANGE RUM).
10] USER FRIENDLY INTERFACE.
11] SINGLE CLICK MULTI MESSAGE
12] FASTEST AUTO LEAVE or KICK ESCAPER

STEPS TO USE MMK:-
#When you run mmk you will see first page of mmk , you can see watch id option , you can put any id there along with password, for example
watch id= mmk4mig33
password= password of watch id
#Then put the id that is registered at mmk along with password.
Registered id= your_reg_id
Registered id password= your reg id pass
#Now comes id starting letters
consider you have ids mymmk1 , mymmk2, mymmk3 upto mymmk10
then put mymmk without 1 ,2 3 in id starting letters
note: you must have ids that have 1 to 10 in end , if you have ids having 01 , 02 then 10th id must have 010 in end instead of 10
#put 0 in starting index if your ids start from 1 , if you have ids that have 31 to 40 in end then put 30 in starting index. Please don't leave this box blank .
#Id ending letter
don't put anything here , leave it blank , it will be used in next versions of mmk
#put password of your multi ids
#put room name
#press login button and wait until you get the message "watch id logged in" :hurrey:
#press the button on next page to join room, at this point your watch id will enter the room, and you should be able to see room chat
#after your watch id has joined room, press star(*) key of your key pad , then wait few seconds , your multi ids will join the room
#press zero (0) key at your keypad , you will get room user list now scroll up or down to select target, press key "5" or press middle button of joystick or press select to kick the target.
#press hash (#) key at your keypad if you want your multi leave the room
FLOOD TUTORIAL
1) WRITE SOME TEXT IN THE FIRST SCREEN AFTER SUCCESSFUL LOGIN IN FLOOD TEXT BOX
2) JOIN ROOM AND ENTER YOUR MULTI SET IN ROOM
3) PRESS BUTTON "7" TO START FLOOD
4) YOUR IDS WILL FLOOD AS LONG AS YOU PRESS "7" BUTTON
SNAPSHOTS:-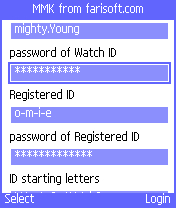 http://www.4shared.com/file/MEi9dhWS/MMK_Mobile_Multy_Kicker-Mig33_.htm
V.I.P





Posts

: 136


Points

: 221


Reputation

: 4


Join date

: 2011-08-11


Age

: 28


Location

: Manikgonj






Posts

: 11


Points

: 11


Reputation

: 0


Join date

: 2012-09-14






Posts

: 18


Points

: 18


Reputation

: 0


Join date

: 2013-04-19






Posts

: 28


Points

: 28


Reputation

: 0


Join date

: 2013-05-14






Posts

: 21


Points

: 21


Reputation

: 0


Join date

: 2013-05-21



The file link that you requested is not valid.




Posts

: 6


Points

: 6


Reputation

: 0


Join date

: 2013-04-20





Similar topics
---
Permissions in this forum:
You
cannot
reply to topics in this forum